Click below to purchase memberships & to donate to capital improvement
---
Hurtig's Release Form
Please sign our new digital release form by clicking the link below.
You must complete this entire form to participate at the club. Your safety is our #1 priority.
CLICK HERE TO SIGN THE RELEASE FORM
THANK YOU!
Youth Firearm Clinic
Where: The Hurtig Shooting Center 105 Ohio Gulch
When : October 4th 5:00 to 7:30
All kids 7 thru 14 are welcome to attend. .22lr pistol and rifle
All firearms and ammo are supplied
Support protecting women & children
The Thrival Foundation
Join us at Hurtig on Thursday Oct 5th for an educational fundraiser focused on training and protecting women and children! We need your support and we are excited to meet you all.
Please text Tara with any questions and to RSVP:
208-309-5900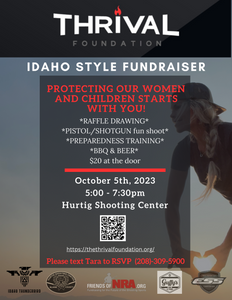 The Hurtig Wildhares, a womens shotgun group for all skill levles. They shoot every Friday morning. Contact the club for times.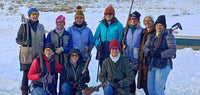 Located in the heart of Blaine County, Idaho is the Hurtig Shooting Range. Open to both HSC Members and the General Public, HSC supports a wide variety of shooting activities including Sporting Shotguns, Pistol and Precision Rifles. As the only full service shooting facility in the Sun Valley area, we take immense pride in providing a safe recreational shooting experience to all participants. We offer NRA-Certified instruction, Gun Rentals, an on-site PRO Shop, and shooting competitions year round.
Merchandise available at the clubhouse
---